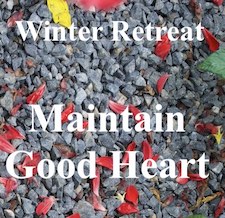 Annual Winter Retreat - Maintaining Good Heart
with Hamish Tucker & Joyce Rankin
Meditation Retreat is a precious opportunity to take a close look at who we really are and what we care most about. This city retreat is a unique opportunity to deepen one's meditation practice without having to go far from home. Open to both new and experienced meditators, the "weekthun" will be held at the Victoria Shambhala Centre.
Participants will be guided through the practice of meditation, with each day including periods of sitting and walking meditation, a contemplative meal, short talks, exercises, discussion, self study, a short work period, and opening and closing chants.
This years retreat will emphasis simplicity and the basics of a gentle, but strong retreat container. Through the meditation practice of mindfulness and awareness, we can learn to relax with the present moment and develop a friendly intimacy with ourselves and environment. We move in a direction of observing, sensing and trusting our experience, which encourages us to open further. This process cultivates a wonderful laboratory to explore the theme of our retreat, "Maintaining a Good Heart"

With the guidance of Joyce Rankin we will also explore some of the embodied movement exercises developed from Theory U, and the Presencing Institute. A social change model that Shambhala is currently engaging.

We strongly recommend attending the full weektun. However, there will be some spots available for partial attendance at the beginning of the retreat for 1 or 2 days (December 28 and 29). No new participants will be allowed to join the retreat after the third day (December 30). Everyone attending is asked to attend the orientation on the 27th. at 7:00 pm Please indicate in the comments section of the online registration the number of days you plan to attend. There is no field for a "per day price", but you can indicate your day participation in the "comments" section at the bottom.
Practice requirements
No prior experience with meditation is required. Instruction will be provided.
Registration
Space in this retreat is limited so it is recommended to register online (see link bellow) to reserve your spot.
Registration and orientation will take place the evening of Friday December 27th (7:00 - 9:00 pm).
The schedule for Saturday, December 28th through Friday, January 3rd, 8:00 AM – 6:30 PM. A light breakfast, contemplative lunch and afternoon tea will be provided daily.
Fee structure
If the "program price" is an obstacle for you, please consider paying the "reduced price". If you are unable to afford the reduced price, please contact the coordinator as soon as possible. We may be able to offer a few spots at the pay what you can afford rate. For those who can offer more than the program price, we have a "patron price". Your generosity in offering the patron price helps cover the costs for others who are not able to pay the full program price.
• Program price: $245 per week; $35 per day
• Patron price: $295 per week; $45 per day
• Reduced price (limited space available): $185 per week; $30 per day
Questions? Contact us at [email protected].

Teachers
Joyce Rankin was introduced to Shambhala in 2003 through ALIA, the Leadership Institute. There she met Acharya Arawana Hayashi and Otto Scharmer from the Presencing Institute (PI). After 2 years in a Shambhala study group in Winnipeg, she moved to Victoria and joined the Centre here, taking programs through to Warrior Assembly. Since 2003 she has worked and studied with Arawana and Theory U from PI and Social Presencing Theatre (SPT). She is a recognized instructor in SPT and will be offering several of the movement practices throughout the Winter Retreat.
Hamish Tucker has been practicing mediation in the Shambhala Tradition since 1988. He has done extensive retreat practice, and has much experience in both the Teaching and leadership positions within Shambhala. He is a practicing artist, works with Seniors and is a husband, and father