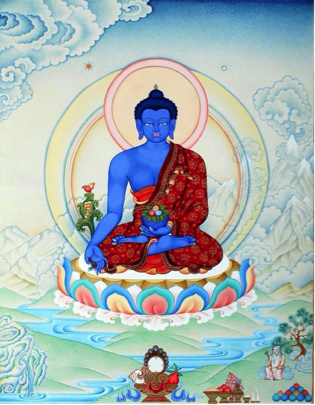 Menla, The Medicine Buddha
with Dr. James Sacamano
We will explore Ven. Thrangu Rinpoche's book, Medicine Buddha Teachings, available on Amazon, as a way to:
Spiritually empower all ordinary healing methods
Foster healthy relationships
Support us on our spiritual journey
Jan 20—Recognizing the Healer within
Feb 3—The Corrective Lens of Informed Visualization
Feb 17— Mantra & Mudra—Uniting Mind and Body
Mar 9—Self-Models, Deities and Maras
Mar 23— Menla and Various Psychotherapies
Apr 6—Menla, Cultural Diversity and Current Needs
Apr 20—The Five Wisdoms as Medicine
May 4—From Obstacles to Path
Program Price: $50
Reduced Price: $30
Patron Price: $75
Classes will be on Zoom from 6 to 7:15 PM PST
1. If you are new to online practice, simply click on the link provided for the practice session.
Download and install the Zoom browser plug-in
After a 10-20 sec delay you should automatically enter our Zoom video session