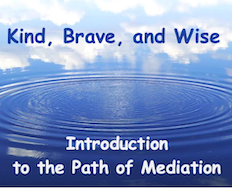 Kind, Brave, and Wise: An Online Introduction to the Path of Meditation
with Shastri Mark Hazell & Tineke Saul
This online workshop introduces the view and practice of meditation as the best possible way to be brave, kind and wise to ourselves and to others in this difficult time. By befriending our fearful minds, we not only stabilize ourselves but we also become more available to others. Further through the practice of meditation, we begin to glimpse that goodness—rather than confusion—is the unconditional ground of our existence. Opening to ourselves with gentleness and appreciation, we begin to see our potential as genuine and compassionate human beings.
This online class is a Weekday presentation of the Shambhala Taining Levels, and is the equivalent of Shamhala Trainig Level 1
The Way of Shambhala path of training introduces the practice of meditation and the basic principles of the Shambhala teachings. Kindness, Bravery, and Wisdom are three Innate qualities that lay at the heart of the Shambhala Teachings.
This Online class includes meditation instruction and practice, talks, group discussion, and individual discussion, along with weekly readings and the encouragment of a daily practice.
Zoom Link: A zoom link will be emailed to participants 1 week in advance of the class, and will be posted on this program page.
Prerequisites: None—everyone is welcome.
Dates and times: Five consecutive Saturdays,
May 16th, 10:00 AM – 12:00 PM
May 23rd 10:00 AM - 12:00 AM
May 30th 10:00 AM - 12:00 AM
June 6th 10:00 AM - 12:00 AM
June 13th 10:00 AM - 12:00 AM
Reading Shambhala: The Sacred Path of the Warrior, by Chögyam Trungpa. This book is available for purchase online.
Pricing and generosity: We have a Generosity Policy to make our offerings available to all who wish to participate. If the "program price" is an obstacle for you, please consider paying the "reduced price". If you are unable to afford the reduced price, you may "pay what you can afford"; to arrange for this, please register in advance via the button below, entering the amount you can afford. For those who can offer more than the program price, we have a "patron price". Your generosity in offering the patron price helps cover the costs for others who are not able to pay the full program price.
Questions? Contact us at [email protected].