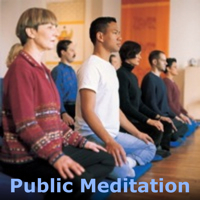 Sunday Morning Meditation
As of Sunday, August 30th, people will be able to continue Sunday Morning Sittings and dharma practice via Zoom while a limited number (14) will be able to sit in the main shrine room by following the protocols in place for meditating at the Centre.

Please use the Zoom link (Meeting number 382-064-209) and look for sign up procedures if you plan on coming to sit at the Centre.
Sundays, 9:00 AM – 12:00 PM | Open to all | By donation

Join us in group practice of the Shambhala community's core discipline of mindfulness-awareness meditation. Periods of silent sitting meditation alternate with shorter periods of walking meditation. Each session starts and ends with chants and may include a short contemplation.
We provide meditation cushions, benches and chairs. You may come and go as you like.