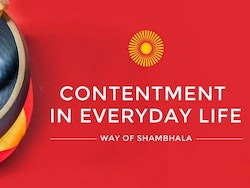 Way of Shambhala: Contentment In Everyday Life
with Hamish Tucker & Tineke Saul
Contentment can be hard to find. Much of the time we search for contentment in things, achievements or relationships. With meditation practice, we relax with ourselves and appreciate simple human experiences. Difficult emotions and challenges of life can be met with gentleness, mindfulness and inquisitiveness.
This course provides an exploration of genuine contentment, the foundational views of the Buddhist teachings, and meditation in action for daily life. With meditation practice, we can learn to appreciate ourselves and simple human experiences, free from self-aggression. Difficult emotions and the challenges of life can be met with gentleness, steadiness, and humor.
This is the second course in the "Everyday Life" series of the Way of Shambhala path of training. The course includes guided meditation, talks, and open discussion of the challenges that meditators face in their practice.
Prerequisites: None—everyone is welcome. (Note: Contentment in Everyday Life is recommended preparation for the next course in the series, Joy in Everyday Life.)
Dates and times: Five consecutive Thursdays, January 21st – February 18th 2021, 7:00 – 9:00 PM
Suggested readings: See Contentment in Everyday Life Reading List (PDF). The main reference books are available for purchase in the Victoria Shambhala Centre's bookstore.
Pricing and generosity: We have a Generosity Policy to make our offerings available to all who wish to participate. If the "program price" is an obstacle for you, please consider paying the "reduced price". If you are unable to afford the reduced price, you may "pay what you can afford"; to arrange for this, please register in advance via the button below, entering the amount you can afford. For those who can offer more than the program price, we have a "patron price". Your generosity in offering the patron price helps cover the costs for others who are not able to pay the full program price.
Questions? Contact us at [email protected].