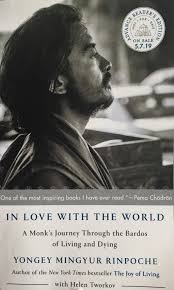 Book Study
with Dede Gaston & David Reid
Join us in a 5-week study of Yongey Mingyur Rinpoche's 2019 book, IN LOVE WITH THE WORLD: A MONK'S JOURNEY THROUGH THE BARDOS OF LIVING AND DYING.
Born in Nepal in 1975, Yongey Mingyur Rinpoche is the son of the celebrated meditation master, Tulku Urgyen Rinpoche. Trained within the kagyu lineage, Mingyur Rinpoche is abbot of three monasteries, directs Tergar, an international meditation community, and is a well-respected meditation teacher. At age 36, he undertook a 3-year retreat except he chose to forgo a traditional path and secretly left his monastery in India in order to engage in a wandering retreat.
IN LOVE WITH THE WORLD documents the beginning of his journey in which he tests all his training without any familiar supports in order to explore the true nature of his being. It is a most gripping story as Yongey Mingyur Rinpoche teaches dharma based on his unsettling experiences.
We will begin each evening with sitting meditation. We will look at the book in sections and everyone will be encouraged to particpate.
The book is only available in hardcover and participants are encouraged to buy a copy and begin reading!
The course has begun and registration for this book study is now closed.