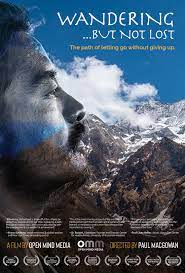 Join us on Chogyam Trungpa Rinpoche's parinirvana to discuss the film "Wandering...But Not Lost"
Discussion of the film "Wandering....But Not Lost" on Chogyam Trungpa Rinpoche's Parinirvana
Sunday April 4th is Chogyam Trungpa Rinpoche's parinirvana. Following the regular online sitting from 10:00-10:45, the Victoria Shambhala Centre's monthly "dharma talk" will be a conversation about a new film – Wandering…But Not Lost. The film gives an intimate account of Mingyur Rinpoche's four-and-a-half-year wandering retreat interspersed with the master's own guidance in applying Buddhist wisdom to our daily modern lives. The film's director, Paul MacGowan, will be joining the conversation.
There is no cost for the weekly Sunday Morning Sittings. Join Sunday Morning Sit at:
Zoom meeting number: 382-064-209
Yongey Mingyur Rinpoche
Like Chogyam Trungpa Rinpoche, Yongey Mingyur Rinpoche has had a classic Tibetan training in the profound Buddhist practices of Dzogchen and Mahamudra from Kagyu and Ningma teachers. At age 20, he was asked to oversee the activities at Sherab Ling Monastery in northern India, one of the most important monasteries in the Kagyu lineage. Following in the footsteps of Kagyu masters like Tilopa, Naropa, Marpa and Milarepa, he chose a wandering retreat which tested his training in order to explore the true nature of his being.
A group from the Victoria Shambhala Centre is finishing up a five-night book study on Mingyur Rinpoche's inspiring text, In Love With the World, which covers the first six weeks of this four year wandering retreat. The study group has found that he makes the dharma accessible through teachings that emerge directly from his initial unsettling experiences.
Viewing the film before April 4th
These are some of the details about the screening of Wandering….But Not Lost which will be streaming on Vimeo: (1) it will be available between March 19-29; (2) there is a $12 (US) cost up until the 19th, then $18 once the streaming period starts; (3) one would have to create a "basic" Vimeo account in order to stream it but the "basic" account is free (much like Zoom's practice.) Get your streaming ticket and read more about the film at:
Watch the film; read the book; join us on April 4th for the Sunday Morning Sitting and discussion of Wandering…But Not Lost.
It will be a good opportunity to gather as a community and to be grateful to these teachers who have brought the dharma to us in the west.