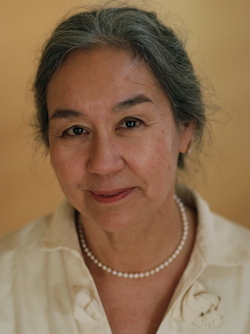 Way of Shambhala - Shambhala Training Level I
with Acharya Arawana Hayashi
The Art of Being Human is the first in the series of Shambhala Training weekends and the first program in the Way of Shambhala curriculum. The Way of Shambhala offers a structured path of meditation and a complete introduction to the foundations of Shambhala Buddhism. Open to people of any spiritual tradition, this series provides a strong foundation in mindfulness-awareness meditation practice, wisdom teachings, and physical practices rooted in the ancient traditions of Shambhala and Tibetan Buddhism
Dates & times: (all times Victoria/west coast time zone)
Friday, May 14, 2021 (4:00-5:30pm)
Saturday, May 15, 2021 (8:00am-5:00pm)
Sunday, May 16, 2021 (8:00am-5:00pm)
Teacher : Acharya Arawana Hayashi
Please register below to participate in this program
Heart of Warriorship
Through the practice of meditation, we glimpse unconditional goodness as the ground of our existence. Opening to ourselves with gentleness and appreciation, we begin to see our potential as genuine and compassionate human beings.
For more information about this series, go here.
About Arawana Hayashi
Arawana Hayashi first saw Vidyadhara Chogyam Rinpoche in the summer of 1974 when her improvisational dance company auspiciously toured through Boulder. She did not remember anything he said, but she had never seen anyone move through the space as he did. That inspired her to stop and sit down on a cushion.
In 1976 she joined the Naropa Institute as Co-Director of the Dance Program with Barbara Dilley. The following year Trungpa Rinpoche asked her to studybugaku, Japanese Court Dance, and to use this form as a basis for creating Shambhala art. In 1994 the Sakyong called together artists at Shambhala Mountain Center to begin a conversation about creating an arts training program based on the visual dharma teachings of the Vidyadhara. Since then, she has been working with the Shambhala Art Program and chairs the Shambhala Arts Council.
In 2000, Sakyong Mipham Rinpoche asked her to move to Karme Choling where she was teacher in residence for 3 years. She was appointed acharya by the Sakyong in 2005.
Since 2004 she has been teaching innovative leadership workshops with social researcher, Otto Scharmer, and is a founding member of the Presencing Institute. There she currently is creating a Social Presencing Theater, which applies Shambhala art to organizational and social change projects. She lives near Sky Lake in the Hudson Valley, New York.
The program includes meditation instruction, talks, periods of meditation practice, and discussion. There is no prerequisite. Everyone welcome.
Prerequisites: None—everyone is welcome. (Note: Shambhala Training Level I is prerequisite for Level II.)
Suggested reading: Shambhala: The Sacred Path of the Warrior, by Chögyam Trungpa. This book is available for purchase in the Victoria Shambhala Centre's bookstore.
Pricing and generosity: We have a Generosity Policy to make our offerings available to all who wish to participate. If the "program price" is an obstacle for you, please consider paying the "reduced price". If you are unable to afford the reduced price, you may "pay what you can afford"; to arrange for this, please register in advance via the button below, entering the amount you can afford. For those who can offer more than the program price, we have a "patron price". Your generosity in offering the patron price helps cover the costs for others who are not able to pay the full program price.
Questions? Contact us at [email protected].