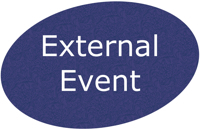 5 Rhythms Dance
LEARNING TO BRAVE:
A transformational weekend dance workshop with therapist and movement specialist Anne Marie Hogya
How can we learn to brave?
By stepping forward into low-risk situations that feel scary-as-hell,
making room for our shakiness, our trembling, our doubt-
step by step, small by small.
Acts of brave increase our tolerance for being human,
and expand our potential to live the full range of
our expression, our emotions, our aliveness.
We can all
LEARN TO BRAVE.
In this dance workshop we'll exercise our courage. You'll taste freedom and discover movement tools and inspiration to take what you learn and apply it in your daily life. Designed for adults of every age and ability, no experience is required.
We will be following all of the Provincial health guidelines and all workshop participants will need to be vaccinated with two COVID-19 vaccines to participate in the workshop. Masks will be required in common areas. Sessions will be held indoors and there will be an option of dancing outdoors with headphones.
Information and Registration:
https://www.annemariehogya.com/learning-to-brave