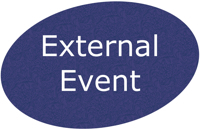 5 Rhythms Dance: Clutter (Feb)
with Anne Marie Hogya
February 4-6, 2022 workshop:
CLUTTER
An Innovative Movement Workshop with Anne Marie Hogya
Time: Friday February 4: 7:00 - 9:00pm | Saturday February 5: 12:00 - 5:00pm | Sunday February 6: 12:00 - 5:00pm|
Clutter can weigh us down: physically, mentally, emotionally, and spiritually.
We can become stuck, blocked, stagnant and heavy:
in our bodies, in our minds, in our hearts, in our souls.
However, when clutter moves
it can create:
possibility, potential, transformation and change.
It can spark a fire of inspiration and ignite new creative landscapes.
Clutter can be a teaching, and an ally;
it can illuminate the path to freedom.
MOVE YOUR CLUTTER.
In this workshop, you will investigate what clutters you up and holds you back. Using the transformative dance practice of the 5Rhythms you'll explore how to release the clutter to create space for innovation, insight, freedom and expression. This workshop is for anyone who wants to explore their own inner wisdom, no experience required. The movement tools, techniques and inspiration you learn here can be immediately applied to daily life. Designed for adults of every age and ability. https://www.annemariehogya.com/clutter