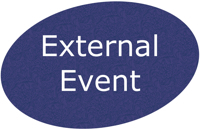 5 Rhythms Dance: (March)
with Anne Marie Hogya
Money
An Innovative Movement Workshop with Anne Marie Hogya
Our relationship to money shapes: our beliefs, our energy, and our behaviour.
These shapes can expand or contract, assist or limit, and free or bind -
who we are and how we manifest our vision for this life.
For many, our relationship to money makes us stuck, frozen, troubled, and distressed.
It can shut us down and keep us trapped.
However, with movement, with awareness, and with creative investigation, our relationship to money can shift and change and catalyze and heal.
We can then use these new shapes for inspiration and deep transformation.
SHAPE YOUR RELATIONSHIP TO MONEY.
This workshop is for anyone who wants to explore their own inner wisdom, no experience required. The movement tools, techniques and inspiration you learn here can be immediately applied to daily life. Designed for adults of every age and ability.
https://www.annemariehogya.com/money