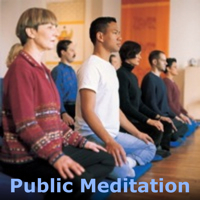 Wednesday Morning Meditation
Wednesdays, 8:00 – 9:00 AM | Open to all who have received meditation instruction | By donation
Join us in group practice of the Shambhala community's core discipline of mindfulness-awareness meditation. Periods of silent sitting meditation alternate with shorter periods of walking meditation. Each session starts and ends with chants.
We provide meditation cushions, benches and chairs. You may come and go as you like.
For more information, contact us at [email protected].