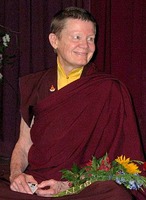 Opening the Unbiased Heart: Tonglen
with Dede Gaston
Opening the Unbiased Heart
A four week class on the practice and study of Tonglen - a meditative practice for cultivating empathy and love by exchanging our self for other.
By taking another's pleasure and pain into our self and offering our pleasure and pain to another, we open our hearts and see beyond our tendency to label and fear the "other". We will be reading and discussing Pema Chodron's book Tonglen as a guide for this traditional and essential practice.
Vaccine certiificate required.