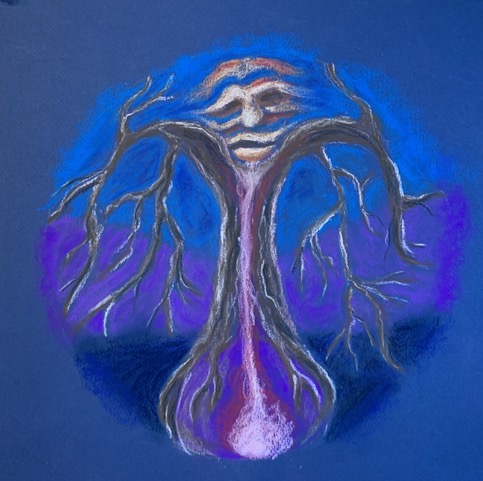 Mandala Painting
with Michael Carpenter
This is this part one. Part two TBD depending on interest. As to cost, it is by donation (suggest $50 for the two Saturdays)
Creating and Interpreting Personal Mandalas
Mandala is a Sanskrit word meaning center, circumference, or magic circle. While Tibetan Buddhists are renowned for their intricate mandalas, the creation of sacred circles is an ancient practice, existing in countless cultures. Carl Jung began creating personal mandalas when he was in his late thirties, and introduced the practice to modern psychology. Jung saw the personal mandala as representing the creator's personality at a point in time. Jung believed that creating mandalas was a natural part of our journey towards wholeness. Jung's work was carried forward by Joan Kellogg, who created a model called The Great Round—twelve stages of personal development that can reveal much about where and who the creator is at a point in time.
Using Kellogg's work, Susanne Fincher (an author, art therapist and internationally recognized mandala expert) has spent over 40 years extending and teaching mandala creation for personal growth.
This program will introduce Kellogg and Fincher's work and suggest a process for creating and interpreting your mandalas. Using art materials of your choosing, you will create and interpret a personal mandala for each stage of the Great Round, and will be encouraged to incorporate mandala practice into your spiritual life. Part One will be offered on two consecutive Saturdays on March 26 and April 2nd from 12 to 5 pm, and will cover Stages One to Six. Part Two will follow depending upon student interest and availability.
The program does not involve art therapy, and you do not need artistic skill or training to participate. All that is needed is curiosity, kindness, and a willingness to play with shapes and colours. All of your mandalas are your own, and you are free to share as much or as little as you choose. Upon registration, recommended reading and a list of art supplies will be provided.
Instructor:
Michael Carpenter.
I've been creating and interpreting my personal mandalas for over 10 years, using a number of methodologies. The discovery of Joan Kellogg and Susanne Fincher was life changing for me. In 2020 I completed a certificate program in mandala creation and interpretation, and was incredibly fortunate to have Susanne Fincher as my coach and mentor. I feel a strong impulse to share some of what I have learned, and I hope you'll join me.
To Register or to obtain information please contact:
Michael Carpenter